Over the last couple of years when traveling internationally, I have packed a separate "day bag" to use when out-and-about and I thought others might find the contents of my day bag of some interest. Usually the trips I take involve frequent multi-hour bus rides and I have found it invaluable to pack a small bag that includes travel necessities as well as some of the tools I use to get work done when away from my desk.
The Bag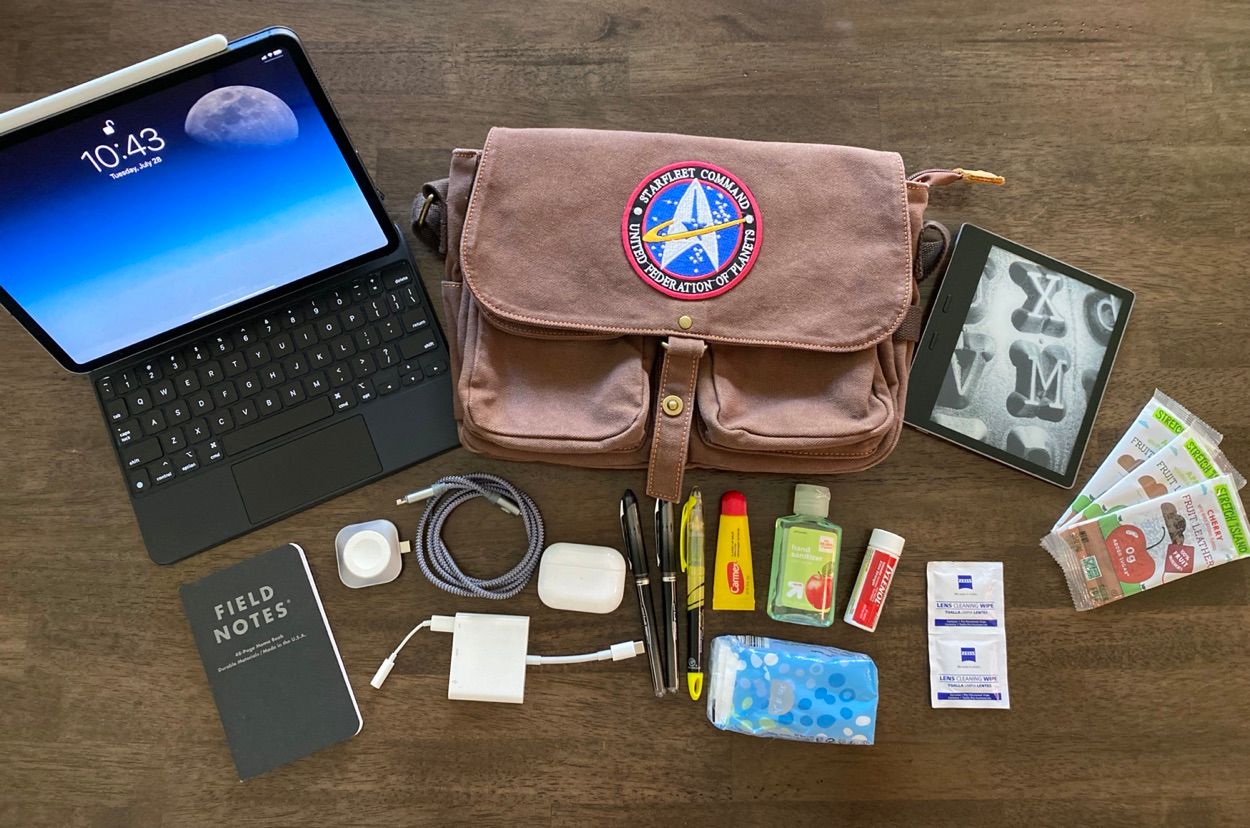 I usually take two bags with me when I travel: a day bag and a larger backpack that accompanies me on the long plane rides. The key difference between the two bags is the larger one carries my laptop, which will not fit in the smaller day bag (nor would I want it to). When flying, I fold up the day bag and store it in my carry-on rollberboard luggage as I only ever need one of the two bags with me at any given time.
Put simply: my day bag contains a subset of the items packed in my backpack.
After trying a few different bags to serve as my day bag, I settled on an all-canvas brown messenger-style bag by Gearonic. It's light, has plenty of pockets and ample storage. It's easy to sling around one shoulder and is comfortable to walk with. Without question, it's one of my favorite bags and the most inexpensive one I own.
Productivity Tools
I have strived to pack the minimum amount of technology in my day bag with the goal of keeping the bag relatively light and minimal. For example, I have deliberately chosen not to pack a power brick or an external battery to charge my iPad and iPhone as the tablet gets all-day battery life and in a pinch can be used to charge my iPhone using a USB-C to lightning cable.
There are two key pieces of technology I carry with me, they are the 2018 11" iPad Pro with Apple Pencil and Magic Keyboard, and the Amazon Kindle Oasis.
Over the last three years or so, the iPad has become a trusted productivity tool for me instead of just a media consumption device. While there is some work I can only perform productively on my Mac, I can do most things on the iPad, such as writing prose and status reports, reading and annotating PDFs, performing desktop-class web browsing, and processing email and Slack messages. Honestly, if I had to pick between owning an iPad or iPhone, I'd pick the iPad every day of the week and twice on Sunday.
My iPad is also equipped with a cellular radio. Fortunately, Google Fi includes international roaming at no attitional charge so I often have connectivity to the internet whereever I happen to be in the world.
Since getting my first Kindle back in 2008, my reading habits have changed dramatically. Being able to read in a comfortable position and have control over line spacing and font size on a screen that doesn't strain my eyes has turned reading from a chore into joy. I couldn't imagine going back to reading voluminous paper books or performing marathon reading sessions on my iPad. I read over a 1,000 printed pages a month all on my Kindle Oasis.
In addition to packing an iPad and Kindle, I also pack a USB-C charging dock for my Apple Watch as well as my AirPods Pro. While my Apple Watch doesn't often run out of battery in the middle of the day, it's the one device for which I haven't determined the best time to charge as I often use it as a my morning alarm. There have been moments when my watch has died mid-day—having a charger on hand for these rare occasions is nice. I also use my AirPods quite a bit, either paired with my iPad or iPhone, to listen to podcasts and infrequently music.
Lastly, I often carry the Apple USB-C Digital AV Multiport Adapter and the USB-C to to 3.5 mm headphone jack adapter as there are times when I need to transfer files to a friend's USB dive or plug my iPad into a projector for a presentation. Admittedly, these times are pretty rare, however the adapters are light and easy to pack,
The Bare Necessities
A day bag wouldn't be complete without packing necessities to get you through the day. I have found the following items to be very useful and often invaluable:
These items are placed the the front-most outer pockets of the bag for ease of access.
---
I love to travel and having a day bag with just the right things and no more has really helped me enjoy my time away from the confines of a hotel. It's even helped me be a little more productive during down time without having to lug around all of my technology tools. My day bag is one of my favorite travel necessities and I couldn't imagine going on another trip without it.